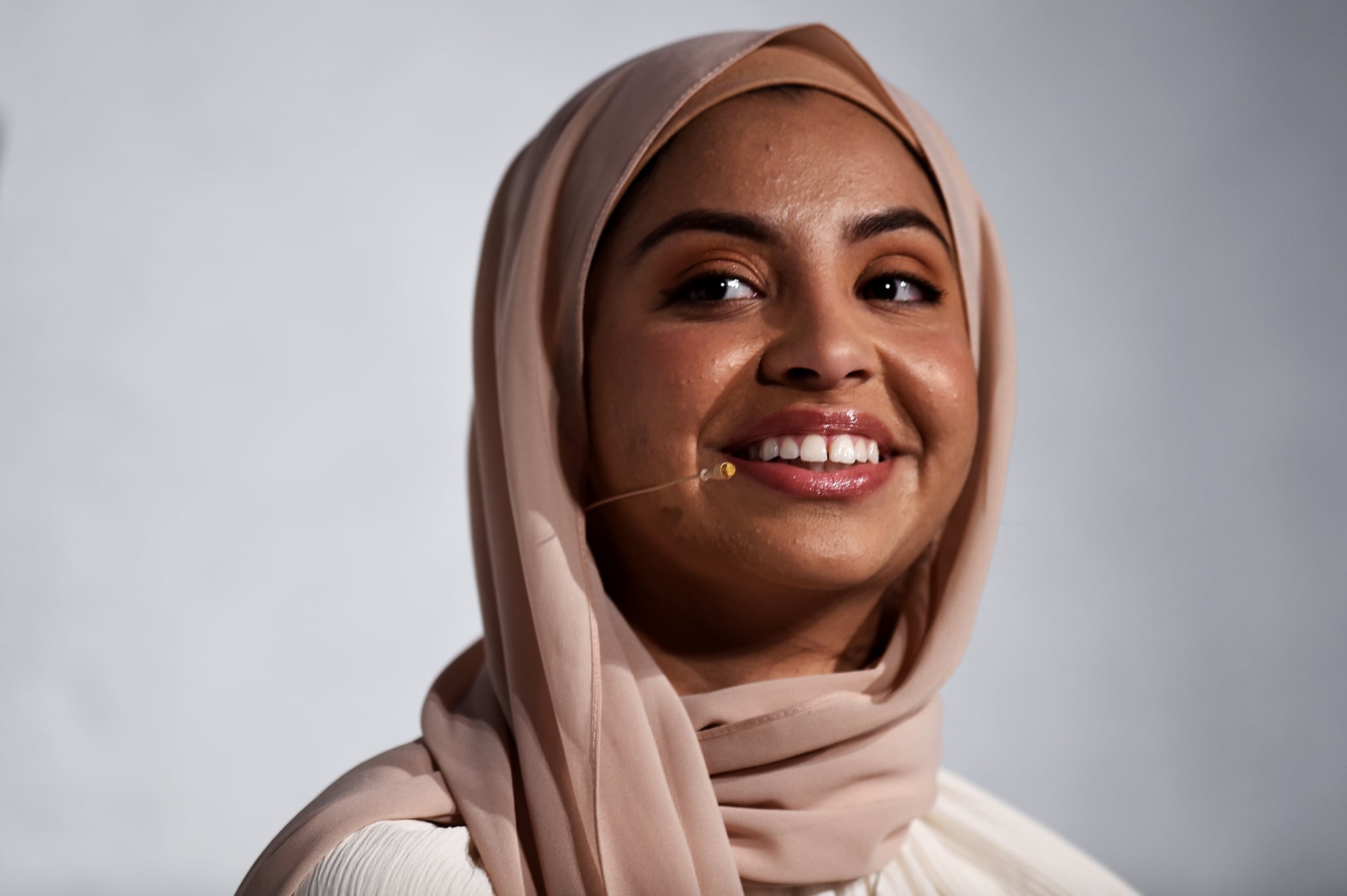 Noor Abukaram is a college student, a fashion design major, and an activist — but right now, she's mostly just a runner who's very nervous and very, very excited for her first marathon. "The journey and the training is so long," the Ohio State sophomore tells POPSUGAR, days before lining up for the New York City Marathon on Nov. 6. "I'm just grateful now, and very excited to just be there."
A track and cross country runner in high school, Abukaram had never run more than 10 miles before starting her marathon training — "every single long run was a distance PR for me" — but then, it won't be the first challenge she's faced in the sport she loves. In 2019, Abukaram was disqualified from a high school cross-country race because she was wearing a hijab, which was against the state's high school athletic rules at the time. It led to a national outcry and the passage of an Ohio state law that protects the freedom of religious expression for athletes. Along the way, Abukaram also founded Let Noor Run, a platform for fighting discrimination in sports.
Now prepping to run on the big stage in New York, Abukaram hopes the platform will help her continue to push her message forward. "What we're working on is increasing inclusivity in sport and that idea that anyone can be the face of sport," she explains. "That sport is for everyone."
Letting Noor Run
In October 2019, Abukaram was a junior in high school who'd just run a personal best at her district's cross-country invitational meet. After the race, as her team celebrated advancing to regionals, Abukaram realized her name wasn't on the individual placement charts. She was told she'd been disqualified due to her hijab, which officials said broke a rule stipulating that all team members must wear the same "color and design school uniform." Runners had to submit a special request to be exempt from the rule, which Abukaram's coach hadn't done.
After the initial shock, Abukaram realized she needed to share her story. "It started off with just a simple Facebook post," she says, "and it kind of blew up from there." As outlets like Sports Illustrated and "The Today Show" picked up her story and reactions started flooding in, Abukaram realized that what she thought was a unique circumstance, a fluke in Ohio's high-school-athletics rules, was actually "a common reality for a lot of hijabi athletes."
Abukaram got in touch with state senator Theresa Gavarone, who proposed a law prohibiting discriminatory policies on the basis of religion in inter-scholastic activities. But the bill was dropped in February 2020, and then COVID-19 hit. For the next two years, focus shifted away from Abukaram's fight while the state legislature worked on pandemic laws.
Then, in 2021, it happened again. It was April of Abukaram's senior year, and she was racing in the mile relay with her high school track team. As Abukaram prepared to take the baton, an official came up to her. "He said, 'Do you have your waiver?'" she remembers. "I was like, 'I don't need a waiver.' I told him that very confidently. And he goes, 'Yes, you do. I'll let you go this time.' And I remember I raced that race with tears just going down my face."
It felt like all of the work Abukaram had put in since the first incident and all of the attention she'd brought to the issue was for nothing. "Have they been listening?" she thought. "Have they been hearing me?" That night, (after confirming that she didn't, in fact, need a waiver to wear her hijab in the race), Abukaram's mom called the state senator again. The decision was made to reintroduce the bill, and Abukaram, newly determined, was prepared to testify to get it passed.
"It Was Never About Me"
Abukaram estimates that she testified in front of her state legislature five different times, and at first, it was as nerve-wracking a prospect as her upcoming marathon. "I don't know what I'm doing here," Abukaram remembers thinking. "I don't know what I'm supposed to say." Senator Gavarone told her that what the legislators really cared about was her personal experience. "Just tell your story," she told Abukaram, who also wanted to highlight why a simple rule change wouldn't cut it.
"Rule books are subject to not only change, but they're also subject to bias, which is what a lot of these officials have," Abukaram says. "Which is why they thought it was okay to ask me if I had a waiver . . . It takes a lot more to change a law than it does to change a rule book."
In February 2022 — two years after the first bill was dropped — Senate Bill 181 was passed into law. By that time, the new law wouldn't even apply to Abukaram, who was now in the middle of her first year of college. But that was never the point, she says. "It wasn't about me. It was never about me," Abukaram explains. "But I have a little sister. I have younger cousins and a lot of little girls in my community that look up to me." She wanted the law for them, so that no one else had to experience what she did after her cross-country race or before her relay. "If me telling that story can help other hijabi athletes, then it's something that I would endure it a hundred times more."
"Women all over the world are just fighting for their right to choose."
As a hijabi athlete, Abukaram says, "you kind of feel like you're the only one, [like] you don't really belong here." She started a Donate a Hijab initiative on the Let Noor Run website to help hijabi athletes materially, by giving them the equipment they need to compete, and to show solidarity. "The message that we're hoping to show these girls is that we see you as an athlete and we're here for you," Abukaram explains. "And that hijab is just the start of a conversation [to] further into their athletic career."
Notably, Abukaram is continuing her activism in a time when the hijab has once more become a flashpoint for change. In Iran, where the use of the hijab is mandatory, 22-year-old Mahsa Amini was detained in September for allegedly violating modesty laws. Her death while in custody prompted a wave of furious protests against the "morality police," which have included Iranian women burning their hijabs and cutting their hair short. The protests have impacted the world of sports as well, with Iranian rock climber Elnaz Rekabi leaving her hair uncovered during a competition on Oct. 16. While it was unclear if Rekabi purposefully meant to make a statement, the athlete went missing days later. And Iran isn't the only country facing a reckoning over the hijab and its connection to religious freedom; in India, Muslim women are suing the government for the right to continue wearing the head covering.
When asked how she sees these fights in light of her own journey, Abukaram is thoughtful. "The parallel that we have to see is that women all over the world are just fighting for their right to choose," she says. "People in Iran are fighting for a lot of basic civil rights," but people, and especially women, all over the world — in India, France, and the US — are embroiled in versions of that same battle, she explains. "It's that right to choose to do with their bodies what they want to do. . . . Women all over the world are fighting this with them."
One Step at a Time
Abukaram's plan in New York is to take the race one step at a time, which is also a good approach to the rest of her life. As a full-time student and an activist running her own platform, she's worked to reframe running as a break from the non-stop pace of everything else, a time to think things through or zone out as she needs. During one run, Abukaram might mentally dissect everything she's going through; during the next, she'll only think about the way her foot hits the ground, her breathing, or the rhythmic swing of her arms. "I can pick and choose how the run affects my day," she says.
Abukaram's goals for New York include having fun and beating her parents, who are also running the race this year. "My dad is catching up to me," Abukaram admits. "I'm like, 'man, I might have to race my dad the whole time.'" At the same time, she also wants to use the platform to further show how "anyone can be the face of sport." Abukaram remembers feeling like she didn't fit the mold of the stereotypical athlete growing up, and she doesn't want anyone who comes after her to feel that same sense of otherness. In Abukaram's experience, "the running community is such an inviting place," she says. "It's about coming as your full self on every stage that you're at, and I hope that's a message that I can start to spread, especially while I'm running that marathon. It's showing up as your full and true self."
And if that means continuing to tell her story and push for legislative change, well, sign Abukaram up. Whether she's confidently answering questions from state legislators, traveling to universities to talk about the impact of Title IX, or repping her culture and religion at an internationally famous marathon, Abukaram knows that it was the power of her voice that got her here. "This is my story," she says, "and I'm the only one that can tell it."